A-Series Roller Clutches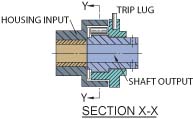 A-Series Roller Clutches:
A-Series Tiny-Clutches are miniature roller and cam type single revolution clutches. They also function as a general purpose, rapid action clutch for selectively coupling a continuously rotating input and a driven shaft. The clutch features fast response, high torque capacity for a given size and are not subject to overheating. Power is applied to the clutch housing through a pulley, gear or

sprocket mounted on the housing shoulder & the cam is pinned or keyed to the driven shaft. A trip lug on the outer shoulder releases the clutch and stopping the shaft. The clutch remains free until the pawl is moved away from the trip lug. The driven shaft is always disengaged at a predetermined position & may be disengaged at intermediate points of rotation by adding additional lugs, resulting in simple control for indexing. The trip may be activated manually, mechanically, or electromagnetically.



A-Series Tiny-Clutches are available for bores up 13mm, torque loads up to 80lbs-in | 9.0Nm & speeds up to 7000RPM. We will design & build special or modified clutches for your application using stock components. Clutches can be supplied with gears, sprockets, pullies or as complete mechanical assemblies consisting of clutch, shaft and adjacent parts.
Standard A-Series Clutches:
Bore-Inch
Bore-Metric
Min.
Max.
Min.
Max.
Max. Torque
Max. Speed
A62
3/16"
3/16"
4mm
5mm
15lbs-in |1.7Nm
7000RPM
A75
1/4"
5/16"
6mm
8mm
30lbs-in | 3.4Nm
6000RPM
A106
3/8"
3/8"
10mm
10mm
50lbs-in | 5.6Nm
4000RPM
A125
1/2"
1/2"
12mm
13mm
80lbs-in | 9.0Nm
2500RPM